What is Virtualmartja.com?
Virtualmartja.com is Jamaica's largest online Island-wide wholesale, retail  and
delivery company. With over 6 different virtual stores,
over 15,000 products and over 500 brands in our catalogue you will find everything
you are looking for. Right from fresh Fruits and Vegetables, Rice, Flour, Sugar, Spices
and Seasonings to Packaged products, Beverages, Personal care products, Meats,
Electronics, Small/Large Appliances, Sporting equipment – we have it all. Choose from
a wide range of options in every category, exclusively handpicked to help you find the best
quality available at the lowest prices. Select a time slot for delivery and your order will
be delivered right to your doorstep, anywhere in Kingston, St Andrew, St Catherine,
Clarendon, Manchester, St Elizabeth, Westmoreland, Hanover, St James, Trelawny,
St Ann, St Mary, Portland, and St Thomas.  We delivery to householders, corporates,
restaurants, service stations, hotels, villas and others. You can pay online using your
debit / credit card, NCB/Scotia bank transfer, pre-approved cheques, PayPal or by cash
on delivery.
We guarantee on time delivery, and the best quality!
Happy Shopping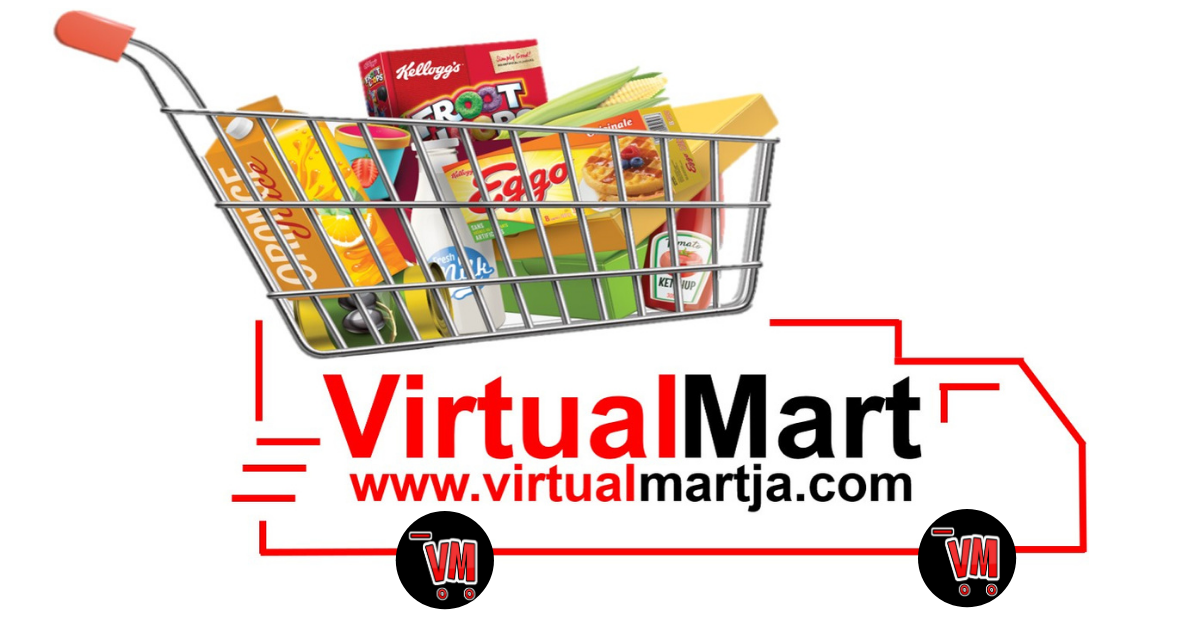 Why should I use Virtualmartja.com?
Virtualmartja.com allows you to walk away from the drudgery of grocery shopping and welcome
an easy relaxed way of browsing and shopping for groceries and other items from some of your
favorite Brands/Stores. Shop at multiple stores and get all delivered together at a reasonable cost.
Discover new products and shop for all your food and grocery needs and more from the comfort
of your home or office. No more getting stuck in traffic jams, paying for parking, standing in long
queues and carrying heavy bags – get everything you need, when you need, right at your doorstep.
Shopping online is now easy as every product on your monthly shopping list, is now available online
at virtualmartja.com, Jamaica's best online grocery store.
Benefits of ordering through Virtual Mart Jamaica:
Personalize shopping. We call you to offer addition & substitution of products if items are out of stock. 

Best quality items are carefully selected for you by our knowledgeable staff

Returns are handled free of charge (very few exceptions)

All warranties given by store are fulfilled

Order with or without membership 

Shop at multiple stores and pay only one delivery charge

Pay remotely via credit or debit VISA/MASTER/Keycard/PayPal

 How do I order?
Browse virtualmartja.com for products or use the search feature

Add item to your Shopping Basket

Choose a convenient delivery day or select express

Select suitable payment
option (Cash,Credit Card)

Cash on Delivery
Cards 
Pre approved cheques
Bank Transfer
PayPal
We call you during order processing (add substitute products)
Your products will be home-delivered as per your order.